Modeling Fonts
US Air Force, US Navy/Marine Aircraft Marking Fonts, Military Stencil and Carrier Deck Numerals Fonts from TLai Enterprises
---
AmarilloUSAF Pro Info
---
AmarilloUSAF Pro - Enhanced US Air Force Aircraft Marking Font


Like AmarilloUSAF, this font follows the current lettering specifications for US Air Force aircraft.

In addition to having all the characters in the original AmarilloUSAF, the Pro version also has variations of letters and numbers used on past USAF aircraft, making it ideal for creating historically accurate decals and lettering.


You can find this style of lettering on US military aircraft dating back to WWII, on both Navy and Army/Air Force planes and helicopters.

Price:
US$22.50 - Single User License
US$85 - Network License Pack (up to 5 users)
(Network Licenses are mandatory for installs on networked servers or printers.)
---
Upgrades from existing AmarilloUSAF licenses are:


US$8.50 - Upgrade from an existing AmarilloUSAF Single User License
US$35 - Upgrade from an existing AmarilloUSAF Network License Pack

Note: When purchasing the upgrade, you may be asked to provide proof of prior licensing.
---
Features:
- Scalable to any size (using appropriate TrueType/Type 1 output device)
- Punctuation includes 2 periods and three types of dashes
- Alternate letters and numbers (not every letter or number has an alternate.)
- Uppercase letters are duplicated in lowercase spots for convenience
- Includes handy keymap reference

AmarilloUSAF Pro Samples:
---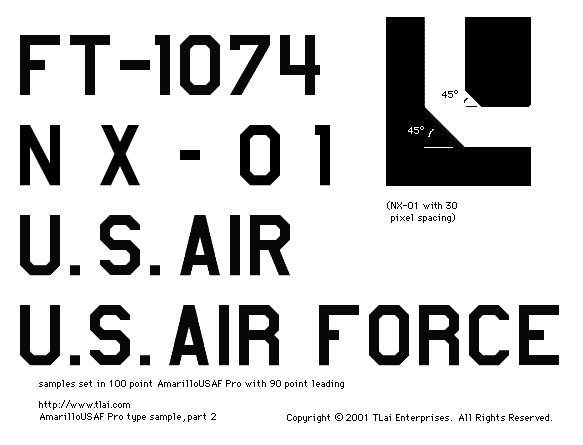 AmarilloUSAF Pro Notes:
---
To obtain a 1" scale height letter with AmarilloUSAF Pro, set the point size to 120. At this point size, the actual letter height will correspond to 72 points, or 1", while the leading will be at 120 points. To get a closer spacing between lines of type, you will need to change your leading to a value smaller than your current point size.


This font is not shareware - instead a demo is provided for testing. If you have any questions about compatibility, or if you cannot use the demo, please contact us before you decide to purchase the full version.


For details on how to access alternate characters from your Macintosh or Windows PC computer, please refer to the keymap guide included with the font archive.


To upgrade existing AmarilloUSAF licenses to AmarilloUSAF Pro, please see the upgrade prices above.

---